Contact:
Sherrie Heflin
Phone: 205-280-2820
Allen Wilson
Phone: 205-280-2820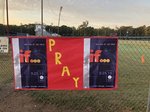 FCS is a Christian club for grades 7-12. We meet on Thursday mornings for a time of prayer and devotion. We are active in the community doing ministry in nursing homes, presenting dramas to the student body, and providing luncheons for Teacher Appreciation Week.


President - Emilee H.

Vice President - Macey K.

Secretary - Haylie P.